Paritarian Social Funds in the Construction Industry
Action
6 - 7 March 2008
Warsaw - POLAND
First Paritarian Funds Conference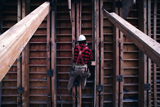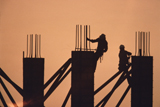 FIEC and EFBWW organised a conference in Warsaw (PL), in collaboration with AEIP (the European Association of Paritarian Institutions), on 6th and 7th March, aiming at promoting social dialogue and in particular paritarian social funds in the construction industry in the so-called "Visegrad countries", namely Poland, Czech Republic, Slovakia and Hungary.
160 participants, representatives of employers, trade unions and public authorities, attended this conference, during which FIEC and EFBWW signed a joint declaration on paritarian funds.
This declaration recognises the important role played by paritarian social funds in the process of achieving a more sustainable construction industry. Depending on the specificities of each country, various activities, such as vocational training, occupational health and safety, occupational pensions, complementary social protection, savings and investments, etc. are issues which can be dealt with jointly in paritarian social funds set up, organised and managed by the autonomous social partners.
It also underlines that the paritarian management of the decision making process is an important pillar of the social dialogue and as such a perfect tool for achieving the objectives of the "Lisbon" strategy, combining the search for economic efficiency on the one hand with the safeguarding of salaried workers' social rights on the other.
With this declaration FIEC and EFBWW demand, amongst others:
that the construction industry be recognised by national public authorities and legislators as a sector in which the autonomy of paritarian industrial relations, negotiations and subsequent agreements are fully recognised and facilitated;
that where it does not yet exist, national authorities set up a legal framework in which national sectoral social partners can autonomously negotiate:
collective agreements;
the creation of paritarian social funds and how they should operate.
that public authorities safeguard the full autonomy of the social partners from any political influence which may reduce the effectiveness of their joint action.
Yves Stevens - Katholieke Universiteit Leuven (Belgium)
Koen De Ryck - PRAGMA Consulting
Jos Gijbels - FVB-FFC (Belgium)
Joep Jansen - FUNDEON (Netherlands)
Massimo Calzoni - FORMEDIL (Italy)
Brian Griffiths - B&CE (United Kingdom)
Jean-Marc Lamère - PROBTP (France)
Enrique Corral - Fundacion Laboral de la Construccion (Spain)
Cees Van Viiet - Arbouw (Netherlands)