Paritarian Social Funds in the Construction Industry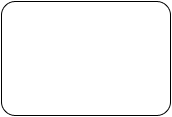 CIMA
Construction Industry Monitoring Agency
COUNTRY
IRELAND
ADDRESS
Unit 26 Northwood Business Campus, Santry, IE - Dublin 9
WEBSITE
CONTACT
Mr. Paul O'Brien (Chief Executive)
Tel : + 353 (0)1 8524100 - Fax : + 353 (0)1 8524100 -
Paul.ob@monagency.ie
General Information Employee Group Covered Eligibility Benefits Cost Sharing Employee contributions Employer contributions Information to Employees
General Information
Presentation
The Construction Industry Federation (CIF) and the Construction Industry Committee (CIC) of the Irish Congress of Trade Unions (ICTU) established the Construction Industry Monitoring Agency in 1988.
The role of the Monitoring Agency is to investigate complaints of non-compliance with the Registered Employment Agreement 'REA' (Construction Industry, Pensions Assurance & Sick Pay).
This REA places a legal obligation on employers in the industry to register their workers in a compliant pension scheme and to make contributions on their behalf.
The terms of the REA for the Construction Industry relating to Pensions, Assurance & Sick Pay was registered with the Labour Court on 7th March 1969 under the Industrial Relations Acts 1946-1969. As a result of this agreement, it became compulsory for all employers in the construction industry to meet the provisions outlined in the REA irrespective of whether or not;
The employer is a member of the Construction Industry Federation
The workers are members of a Trade Union.
Supervisory Authority
CIMA is a public monitoring agency supervised by the National Employment Rights Authority (NERA).
Board composition
Chairman, 5 representatives of the employers (CIF delegates) & 5 representatives of trade union (ICTU delegates).
Regulatory framework
Registered Employment Agreement – Industrial Relations Act 1946
Public Procurement Works Contracts, 19 February 2007
Employee Group Covered
White-collars & General Operatives are covered
Eligibility
Immediate eligibility for employees aged between 20 to 65 yrs old
Benefits
The employee contributes towards a pension up to the age of 65 based on his/her accumulated fund at retirement
Additional sick pay benefit to any Social Welfare Entitlement up to 50 days in any calendar year. Payment is tax free and by cheque
€63,500 for next of kin and €3,175 for each dependent child tax free on death.
Cost Sharing
Shared cost required by plan rules
Employee contributions
Employees contribute up to 2.8% of the average industry wage. Currently €19.20 p.w – 2010
Employer contributions
Employer contributes up to 3.2% of the average industry wage. Currently €28.79 p.w – 2010
Information to Employees
Worker's guide booklet
Online pension contribution history through www.monagency.ie; All queries are registered online, investigated and responded.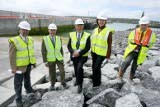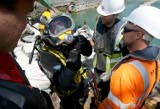 ©BAM Civil Contractors
USEFUL DOCUMENTS